داشتم فایلامو مرتب میکردم که مصاحبه ی هونگی و مجله سی سی رو پیدا کردم

شرمنده یادم رفته بود بذارم

خب الان میذارم

خب برو ادامه دیگه

INTERVIEW THIS HOT FOCUS: LEE HONG KI SHOOT THE MOON, Lee Hong Ki
Life has given him many problems. But he also learned how to find a solution. And tonight, he crossed the line again. Tomorrow morning, he will return home as if nothing had happened.


"Living my life as lead singer in FT Island as an actor playing the life of another person, I finally feel like I'm growing up.
Just like in the movie Ee Choong 'Passionate Goodbye.' "


"I tend to involve myself fully in love.
But when I feel tired at work, I'm leaving and I'm hiding.
I'm not the type to wait a balloon ready to burst.
My manager always has the greatest difficulties because of my behavior, but our faith helps us through all these things.
"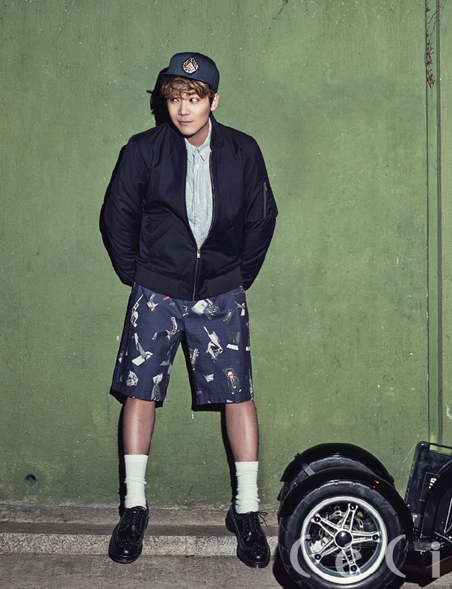 Asian Tour, Arena Tour in Japan, variety shows and a movie.

Lee Hong Ki, busy man, came in shouting, "I'm sorry I'm late.
"

He is smiling while holding a helmet in one hand and a yellow sweater in the other.
He must have rushed here to not miss the photo shoot for the late evening.
The shoot was done early in the morning and 3 hours, he must catch a flight to China.

He began his career as a young actor and then grew up becoming the main group of iconic Kpop singer.
And after many appearances, Lee Hongki is now about to make his debut on the big screen.

It was also cool that pouvaitt imagine, more insightful than expected, and too adorable.

THIS These are your big screen debut.
How do you feel?

I've never played in a movie before that, so I'm half excited and half nervous.
But once I found myself on the set, I had the time and patience to concentrate on my acting and really enjoy the moment.
And rather than making accusations about my faults, my colleagues have really treated me as a partner.
I enjoyed every moment of filming.

THIS You play a big star who volunteers in a hospice.
How would you describe Choong Ee?

Choong Ee is a really sensitive child.
He became a rebel celebrity because of his past but during his hospice volunteering, he finds his true identity and innocent.

THIS All your appearances have been very successful in other countries such as Japan.
'Passionate Goodbye' was released in Korea in May and Japan in June
You must be excited.

I am truly grateful.
But I have a different desire with this film.
I want to raise awareness of the hospice and to understand the idea of ​​death from a different perspective.
Before the filming of this movie, I never really thought about what a hospice and I saw only death as something negative and scary.
Japan is also very sensitive about death.
For example, they rarely use the word "paradise" in the lyrics.
Through this film, I want to show that scary world of death can also be a way to happiness.

THIS This response is unexpected.
Is it not the time and age where everyone wants the general public?

Of course, that's what I want too.
Is not it obvious?
But I also want to say that I want to share the message of the film with the audience.

THIS You always play the role of a singer or an aspiring singer.
Is this a role you want to play?

In 'Passionate Goodbye' Choong Ee is a very popular idol but this is shown only at the beginning and does not run the story.
That's what I liked.
I played roles since I was a kid so I'm eager for it.
How can I be satisfied with my first role?
I'm sure more people will understand someday character actor Lee Hongki and recognize me.
In addition, I am more attracted to a character that stands out rather than cool and friendly person that everyone loves.
Perhaps the really nasty character.
(Laughs) I really can not stand to attention because of my appearance rather than with my character.
Ah!
I also really want to try a fantastic film one day.

THIS You play alongside players such as Ma Dong Seok and Im Won Hee.
He must have had many fun times.

I can not choose one.
I laughed all the time.
This is a serious and human drama but I could not stop laughing every time I saw their faces.
Once Won Hee let out a sigh watching Dong Seok dying.
But my eyes zoomed in on the nostrils Won Hee moved.
It was so funny.
Even when we were filming a really sad scene, we ended up driving us down.
There were so many things that we laughed.

THIS You're in the spotlight since you were very young.
Do not you already tired?

I'm tired.
Of course, I am tired.
Nowadays, there are people who just want to be famous.
I had to wait a long time and I really had to give all of myself in a relentless drive to accomplish my dream.
But you lose as much as you win.
It's my job to let me free as I find a solution.
In Korea, live freely as an idol is impossible.
But there are dangers of living in a confined life.
So I have to control my mind.

THIS In the film, Choong Ee a crisis to grow.
Lee Hongki has he had a few too?

I've had many.
So many things happened after I became a singer when I was a teenager.
When I was in college, I was tired of being an actor.
I often defied my parents.
I probably want to find something different.
When it happened, I went to karaoke with my friends and me I am free of stress singing.
My friends believed in my vocal ability and that's why I decided to become a singer.
And as a singer, I also found another chance to grow up because I thought I had a new future.
I passed the audition, through training and I eventually became singer.
Through all of this, I met countless people and I sometimes had a hard time dealing with them.
I was betrayed by someone I trusted used without realizing it and becoming increasingly angry against people.
But after the storm has passed, I realized that at the time, I had a bad perception of my surroundings.

THIS You've become a charming Hongki with 'I wish'.
You've got to have even more noona fans because of your cute dance.

I can not directly feel it but I've heard.
Some of my famous friends have followed suit.
The dance was not originally planned but it has received a good response when I tried during the filming of the MV.
I need to add something and this is what worked.

THIS Who is the guy Lee Honki?

A bouncing ball.

THIS huh?
Why a bouncing ball?

You never know where I rebondirais next time.
But for a girl.
I'm a coward.

THIS This is a question asked a thousand times already and I do not want to.
But who is your ideal type?

(With some hesitation) Song Hye Gyo.
That has never changed.

THIS Tell us in more concrete please.

An attractive person.
Someone who is cute at first glance but in the end is sexy, but innocent.

(So ​​THIS is Go Hye)

Haha!
Yes!
It is the answer.

CECI What is the worst act that you did by breaking the rules?

I left the dormitory without permission.
I went out bravely but I just stayed at the hotel the whole time.

(CECI It's so annoying)

I know.
But there was nothing to do.

THIS Tell us briefly your plans for the future.

The film 'Passionate Goodbye', the Asian tour, the Arena Tour in Japan, We Got Married.
When this is over, we may be in September?
I want to go on vacation.

THIS Filled the () with your goal.

A singer (like a chameleon), actor (drawing), a son (proud), a boyfriend (jealous), a husband (like a bouncing ball).